Heat islands are domes of elevated temperatures across the installation caused by the warmth absorbed by structures and pavement. It is an increasing problem not only because the increased air temperatures require more energy for cooling, but because the higher temperatures aid the formation of ozone and trap other pollutants.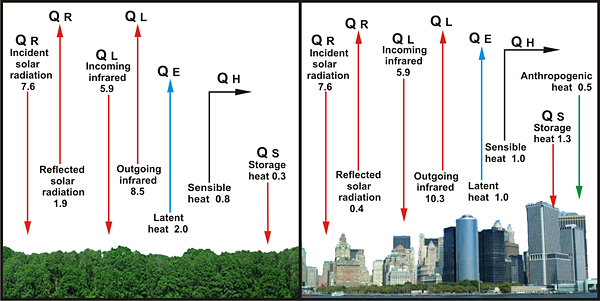 Figure 1. Radiant heat differences between a rural and urban setting
Heat islands can be diminished by minimizing building footprint, reducing paving and walkways, and using landscaping and exterior building design methods, which include cool roofs and vegetated roofs.
Landscaping: The designer can maximize the use of trees and other vegetation to shade walkways, parking lots, and other open areas, being mindful that landscaping should employ indigenous, drought-tolerant plants. Consider covering or replacing walkways, parking lots, and other open areas that are paved or made with low reflectivity (low albedo) materials with high reflectivity (high albedo) materials or vegetation to reduce heat absorption.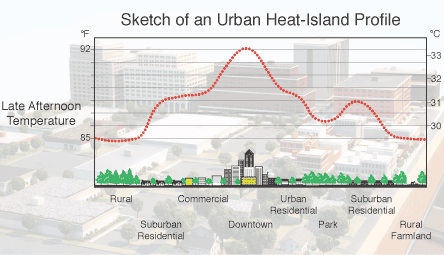 Figure 2. Heat profile sketch
One LEED credit (SS 7.1) can be obtained for this sustainable strategy through providing shade and/or reflective permeable materials for at least 50% of the site hardscape (including roads, sidewalks, courtyards and parking lots). An alternative approach would be to place a minimum of 50% of parking spaces under cover (defined as under ground, under deck, under roof, or under a building). Any roof used to shade or cover parking must have a Solar Reflective Index (SRI) of at least 29.
Cool Roofs: Dark-colored roofs contribute to the heat island effect by heating the air around them. On the other hand, light-colored roofing materials (aka "cool roofs") reduce energy loads and extend the life of the roof, particularly in warm climates. Characteristics of a cool roof include high solar reflectance, high infrared emittance, and good convective heat transfer. Cool roofs come in a wide palette of colors, and may be membranes (e.g., TPO, EPDM, PVC), shingles, tiles, or metal. Factory applied coatings provide better long-term benefits than field applied coatings. While metal roofs contain 25-95 percent recycled content and have low thermal mass, they also have low emissivity (the ability to shed heat). To obtain a LEED credit (SS 7.2) for this strategy, the designer should utilize roofing materials with an SRI equal to or greater than the values in the table below for a minimum of 75% of the roof surface.
| | | |
| --- | --- | --- |
| Roof Type | Slope | SRI |
| Low-Sloped Roof | ≤ 2:12 | 78 |
| Steep-Sloped Roof | > 2:12 | 29 |