A green roof is a roof covered with vegetation and a growing medium, most commonly soil. Various other sub-layers are needed for support, insulation and waterproofing as seen in Figure 1. Green roofs provide several benefits including:
superior thermal and acoustical insulation qualities
reduced peak stormwater runoff rate and quantity
improved stormwater quality
roof life extended two to three times
aesthetic value
conservation of energy
The benefits of a microclimate created by green roofs are cumulative and depend on the action of a large aggregate area of roof to make a noticeable difference to surrounding buildings. The beneficial outcomes include:
Direct local cooling in the immediate proximity of the roof, through the effects of evapotranspiration
Indirect cooling through the reduction of heat radiated into the air by building surfaces or held and released by a building's thermal mass
Indirect reductions in the formation of photochemical smog due to reduced air temperatures and the absorption of airborne chemical compounds by the roof vegetation.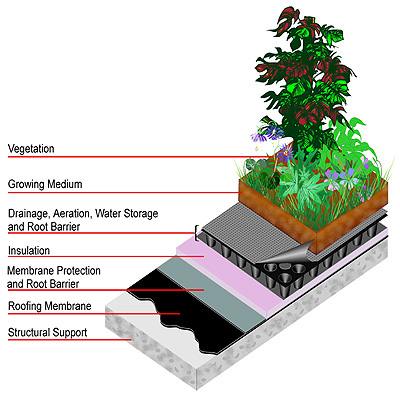 Figure 1: Green Roof Section
(Source: American Wick Drain Corp. website)
As mentioned above, green roofs provide several environmental and financial benefits. Heat island mitigation and superior insulation qualities reduce utility expenses. Capabilities to improve stormwater quality and control runoff diminish the need for extensive stormwater systems and the associated cost. Financial savings such as these may be reallocated to support mission objectives rather than day-to-day operations.
Environmental benefits resulting from green roofs also support mission operations. Greenhouse gas restrictions are continuously becoming more stringent. As a result, we will undoubtedly need strategies, such as green roofs, to reduce each Air Force installation's carbon footprint to allow mission related activities (i.e. aircraft flight) to continue unimpeded.
Green roofs have been separated into two categories: intensive and extensive. Intensive green roofs may have a variety of plants including flowers, vegetables, shrubs, and even trees. The root structure of these plants generally require a minimum twelve inches of soil. Structural support is an important consideration due to the weight load which can range from 80 to 150 pounds per square foot. In addition to environmental and economic benefits, intensive green roofs provide a "park-like" atmosphere for Airmen to enjoy.
Extensive green roofs require much less maintenance than intensive green roofs and are therefore preferred for implementation at Air Force installations. Additionally, extensive green roofs require less structural support with the weight ranging from 10 to 50 pounds per square foot. Plants used for extensive green roofs are often native and may include sedums, drought tolerant grasses and mosses. Extensive green roofs can be applied to a wider range of roof slopes while intensive green roofs are limited to very little slope.
Semi-extensive roofs have a deeper growing medium of up to 150 mm that enables a wider range of planting and potentially the creation of a more diverse habitat. Semi-extensive roofs also have significant capacity for water retention and can be an important element of a sustainable urban drainage system. Planting on semi-extensive roofs tends to rely on individual plant plugs. This means the range of species can be more diverse, but that they take two years or more to mature. Deeper soils also mean a wider range of invasive species can take root and more weeding and maintenance is required. An evolution of the semi-extensive roof is the "brown roof", designed to replicate the original ecology of a site through the use of recycled site material and self seeding - these roofs have an important role in preserving valuable derelict land habitats, but could be quite sensitive in terms of visual planning.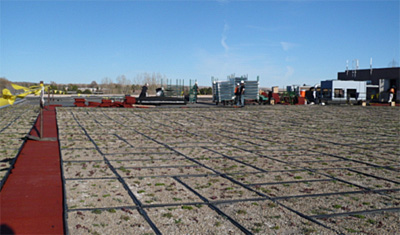 Figure 2. Extensive, grid style green roof installation at Peterson AFB
UFC 3-210-10, Low Impact Development, estimates green roof construction cost to range from $15 to $20 per square foot. This estimate includes all materials and installation expenses associated with any type of green roof.
There are many site factors that must be considered in order to balance the many considerations for optimal performance in each setting, including:
Climate, especially temperature and rainfall patterns
Strength of the supporting structure
Size, slope, height, and directional orientation of the roof
Type of underlying waterproofing
Drainage elements, such as drains, scuppers, buried conduits, and drain sheets
Accessibility and intended use
Visibility, compatibility with architecture, and owner's aesthetic preferences
Fit with other "green" systems, such as solar panels
Cost of materials and labor
A green roof is a potential method to achieve the intent of LEED SS Credit 6.1, SS Credit 6.2 and SS Credit 7.2. Refer to the LEED Guidance section for specific requirements.